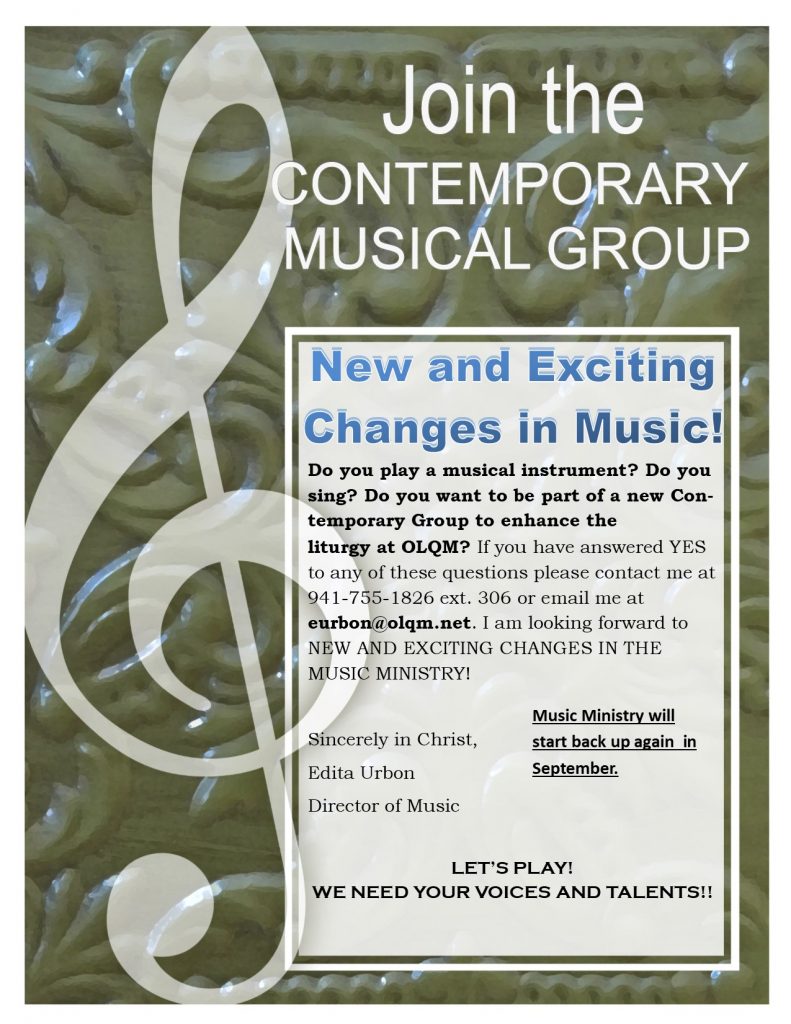 Music ministry is a celebration of God's love and gifts through music. An important part of the liturgy, the music – from the entrance and closing hymns, to the responses, to the Gloria and Gospel acclamation – enhances the celebration and declares the glory of God. We are each uniquely gifted by God and those in music ministry share their gift of song and joy in music through dedication and commitment to the Church and the Lord. It is our mission, as recipients of God's grace, to serve the Lord and proclaim His abundant love and grace for all.
In Music Ministry we are blessed in many ways. Through the act of giving of our time and talent to provide music for the Lord, we are given the opportunity to enrich our own spiritual lives, as well as the spiritual lives of those in the parish community.
The Music Ministry plays a vital role in the life of the parish. We are primarily responsible for all of the music at the weekend Masses and other special liturgies
Adult Choir
The Adult Choir currently sings for the 11 am Mass each Sunday. Rehearsals are Thursday evenings at 7:00 pm.
We always need more voices to sing in the choir and serve as a cantor or song leader at the Mass.
Children's Choir (Ages 5-14)
The parish children's choir meets on Wednesday @ 6 pm. The Children's Choir is growing! They sing for OLQM's Christmas Concert, The Christmas Mass at 5 p.m., and for the other special liturgies.
Hope to hear from you!
Edita Urbon
Director of Music
941-755-1826