Confirmation – On Pentecost Sunday, May 20, Bishop Frank J. Dewane will be conferring the Sacrament of Confirmation on the adults and young people who have been prepared in their parishes but due to unforeseen circumstances were not able to be confirmed in their home parishes. The Mass will be celebrated at 11:00 a.m. at Epiphany Cathedral, 350 Tampa Avenue West, Venice. In order to have an accurate count of the number of Confirmandi, please go to http://epiphanycathedral.weconnect.com/Pentecost-Sunday-Confirmation and follow the instructions. A list of Frequently Asked Questions as well as forms in Spanish and English are available on the website. Anyone participating in the Sacrament of Confirmation must be entered into your ParishSoft Census Program with full and proper name and birthdate. Please send all completed forms to: Sister Frances Lalor, RSM, Epiphany Cathedral, 310 Sarasota Street, Venice, FL 34285; fax 941-488-9333; phone 941-485-2325 or email to Alice Keough at keough@epiphanycathedral.org. The deadline for forms is May 10.
Our Lady Queen of Martyrs Parish Faith Formation program serves the faith enrichment needs of the parish community through programs for children and adults.
All the programs under the auspices of Faith Formation are shared by staff and volunteers with the love of Christ to encourage a growing faith and celebration of God's loving gifts.
Programs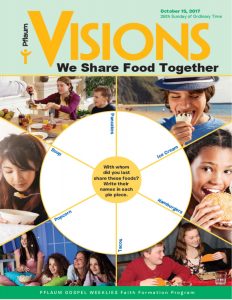 Children's Faith Formation
The children's faith formation program provides formal religious education during the school year for pre-kindergarten through tenth grade parishioners. The sacramental preparation programs for first Reconciliation, first Communion and Confirmation for children are offered in conjunction with the faith formation programs for both public and Catholic school parishioners.
RCIA (Rite of Christian Initiation)
The RCIA process leads adults and young people through the Catholic faith, culminating in their acceptance into full communion with the Church during the Easter vigil. Other seasonal programs are offered for continuing adult faith formation and enrichment, including Confirmation for adult Catholics.
Vacation Bible School
Our Lady Queen of Martyrs annual Catholic Vacation Bible School program is provided for children of the parish and local area for a week-long summer immersion into the love of God.