So many of us struggle with this deeply profound question.
What does it mean, as Christians, when we say, "I believe"? 
So many of us struggle with this deeply profound question.
It's time to take some time to deepen your understanding of your faith.
As fellow believers, we want you to expand your understanding of your Catholic beliefs and, through your studies, to grow closer in your relationship with God. 
Come journey with us as we delve into an 8-week study of both the Apostles' and Nicene Creeds.  Register now for our $40 online course (which breaks down to only $5 a week), and you'll gain a whole new understanding of your faith. 
Want to learn more about the course? Watch our course overview video, as narrated by the instructor of the course—loving father, a devoted parishioner, and religious scholar, Ryan Beggy.
Click here to watch the course overview video
Link to Color Worksheets:  http://catholicmom.com/kids/catholic-gospel-coloring-worksheets-sunday-mass/
The Magiacian
Our Lady Queen of Martyrs Parish Faith Formation program serves the faith enrichment needs of the parish community through programs for children and adults.
All the programs under the auspices of Faith Formation are shared by staff and volunteers with the love of Christ to encourage a growing faith and celebration of God's loving gifts.
Programs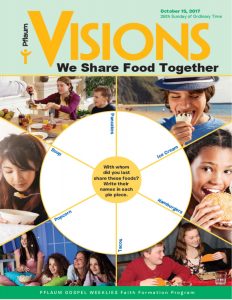 Children's Faith Formation
The children's faith formation program provides formal religious education during the school year for pre-kindergarten through tenth grade parishioners. The sacramental preparation programs for first Reconciliation, first Communion and Confirmation for children are offered in conjunction with the faith formation programs for both public and Catholic school parishioners.
RCIA (Rite of Christian Initiation)
The RCIA process leads adults and young people through the Catholic faith, culminating in their acceptance into full communion with the Church during the Easter vigil. Other seasonal programs are offered for continuing adult faith formation and enrichment, including Confirmation for adult Catholics.
Vacation Bible School
Our Lady Queen of Martyrs annual Catholic Vacation Bible School program is provided for children of the parish and local area for a week-long summer immersion into the love of God.